"Orphan Ann" Home Page: V. A Model Prisoner

"Orphan Ann" Home Page
Sayonara, "Tokyo Rose" … Hello Again, "Orphan Ann"!
(4 Jul 1916 – 26 Sep 2006)
---
V. A Model Prisoner
"I always had thought that prison time would be wasted and go very slowly. But it didn't. The flunky in me always comes out." —Iva Toguri, to former AP bureau chief Rex B. Gunn, 4 January 1959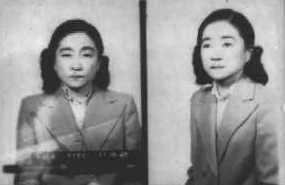 Iva was Prisoner 9380-W at the Federal Reformatory for Women in Alderson, West Virginia, a small facility in the Alleghenies with an inmate population of three to five hundred.
Few of these inmates were vicious or hardened criminals, such as Kathryn Kelly, the wife of George "Machine-Gun" Kelly.
Most were moonshiners brought in from the Smoky Mountains of Tennessee and the Carolinas for federal liquor tax law violations.
Although her official classification as a "notorious offender"—and the reputation of the "Tokyo Rose" legend—engendered some initial hostility, Iva was soon regarded as a model prisoner by the Alderson staff, always cheerful and helpful, keeping the floors of her cottage clean and shining. The leather goods and bookends that she made in the prison handicrafts program won three 1st Prizes and one 2nd Prize at the 1952 West Virginia State Fair. Her IQ tested out at 130 on the Wechsler-Bellevue Intelligence Scale.
Iva was also highly lauded for the quality and quantity of her work at the prison. She worked first as a supply clerk, then did an IBM card study for the Prison Census Coding Project, then became an assistant to the medical officer, working her way up to X-ray operator, medical purchaser and finally laboratory assistant, where her duties included running the X-ray lab, taking EKGs and testing Basic Metabolism Rates (BMR). Her own BMR was 84, the highest she ever tested, which concerned the prison doctor so much that he put her on tranquilizers, to which she reacted badly.
Her family visited her as often as possible and she played bridge with the other inmates, although they may not have included Mildred Gillars Sisk, who was serving 10 to 30 years for treason for her "Axis Sally" radio propaganda broadcasts from Berlin. Iva continued to correspond with her husband Felipe in Japan and her family in Chicago.
Iva's official prison record, recently discovered in the Bureau of Prisons "Notorious Offenders" files in the National Archives, speaks most eloquently for itself.
On 17 June 1953, Iva received her one and only disciplinary action, a reprimand and loss of "meritorious good time" (MGT) for the month of June. Her offense? She extracted another inmate's rotten tooth without authorization or supervision during the absence of the Dental Officer.
On the advice of the FBI and Justice Department, along with continued public prodding by Walter Winchell, Iva was denied parole whenever she became eligible for it. Even so, she earned an early release after serving six years and two months, by virtue of 1,200 days of accumulated MGT, only to face yet another round of public protest. As she walked out of Alderson prison, on 28 January 1956, she was handed a deportation notice ordering her back to Japan.
---
Last Update: 01 January 2020
Copyright © 1995–present by Dafydd Neal Dyar