"Orphan Ann" Home Page: Sayonara, "Tokyo Rose" … Hello Again, "Orphan Ann"!
"Orphan Ann" Home Page
Sayonara, "Tokyo Rose" … Hello Again, "Orphan Ann"!
(4 Jul 1916 – 26 Sep 2006)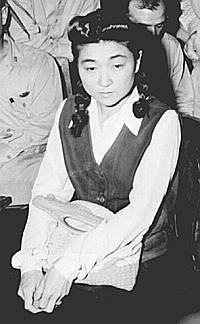 You've probably never heard of Iva Toguri and, if you have any association with the name "Orphan Ann" at all, it's probably to the Little Orphan Annie comic strip. On the other hand, you probably have heard of "Tokyo Rose" and think you know all about her: the sultry, Japanese radio propagandist who taunted "our boys" in the Pacific during World War II.
You're in good company, too. When National Geographic interviewed Trinh ("Hanoi Hannah") Thi Ngo on the 20th anniversary of the end of the Vietnam War, it compared her anti-American broadcasts to the "Tokyo Rose" program. The problem is that there never was anyone called "Tokyo Rose" on Radio Tokyo or any of its subsidiaries. She, like "Kilroy," is a myth based on the frustrations and fears of young men waging war in difficult circumstances far away from their homes.
There were Japanese women broadcasters, over a dozen of them, and a few of them, most notably Foumy ("Madame Tojo") Saisho and Myrtle ("Little Margie") Lipton, even broadcast along the lines attributed to "Tokyo Rose;" but no such person ever really existed.
This wouldn't be much of a problem as problems go, were it not for the fact that a real person was unjustly arrested, tried, convicted, fined, and imprisoned for broadcasting as "Tokyo Rose;" a real person who, by rights, should have been hailed as an American hero and, to the day she died, remained one of the most loyal Americans I have ever known.
This is her story.
---
Contents
---
Last Update: 01 January 2020
Copyright © 1995–present by Dafydd Neal Dyar