Mobile Suit Gundam: High Frontier
Life In The Universal Century
---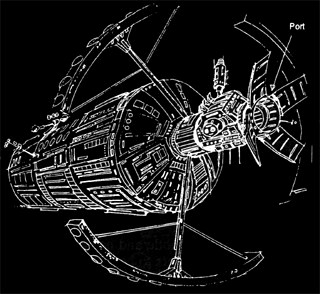 The O'Neill Cylinder or "open type" space colony was established as the standard and most common design throughout most of the colonies, but a newer and more economically efficient design, attributed to Y.T. Minovsky, was used in Side 3 (L2). Modeled on the Gray "Vivarium" design, this "closed type" space colony is a "solid" cylinder with the same dimensions as the open type colony, minus the "sky" panels. Sunlight is refracted through translucent optical "pipes" into a central radiant core to illuminate the inner hull.
The entire interior cylinder wall is available for habitation, so these "tin can" colonies have twice the habitable area of their open type counterparts: 650 square kilometers (250 square miles) or 65,000 hectares (160,620 acres).
Here, each colony contains only two urban civic centers, two suburban residential zones and one rural recreational area. The two cities and their associated suburbs cover an area of 248.4 square kilometers (96 square miles) each. The rural area covers an area of 124.2 square kilometers (48 square miles) each, which again must be divided evenly between the two urban centers. Each of the urban centers houses eighteen million people, supporting a total population of thirty-six million at an urban-to-rural ratio of four to one.
The closed type colony is twice as efficient as the open type—but only a third as pleasant. Due to the visual and psychological effects of its undifferentiated design, the closed type colony seems much more confined and artificial, less spacious and congenial, than its open type counterpart. (This visual aspect accounts in part for the more "military" or "industrialized" look of the closed type colony of Zeon, in contrast with the more "civilian" or "suburban" look of its open type counterparts. "A cheap cinematic trick," perhaps, but an effective one.)
---
Last Update: 01 January 2020
Copyright © 1999–present by Dafydd Neal Dyar